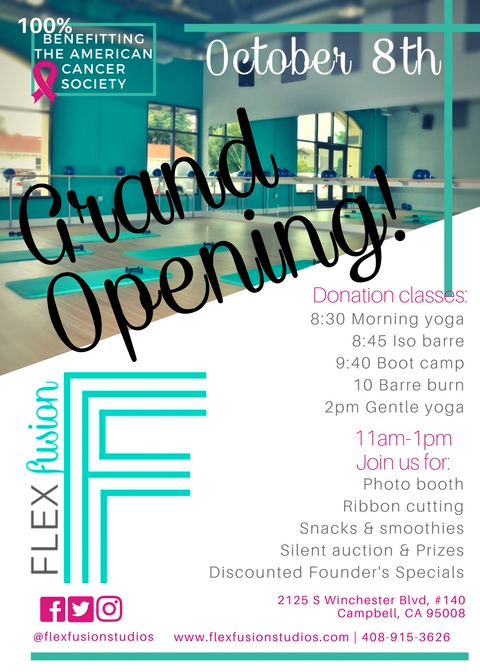 Flex to End Breast Cancer on October 8th!
Join the Flexfam as we celebrate our grand opening by raising funds forAmerican Cancer Society and Making Strides Against Breast Cancer of Silicon Valley!
Come early for donation-only barre, yoga, and boot camp classes. Then, stay for snacks and juices while you shop our silent auction with products and services from incredible local businesses.
Show off your selfie in our fun photo booth, listen to speakers and survivors tell their stories from American Cancer Society and enjoy huge savings on our memberships and class packages!
Enter to win our raffle prizes including spa certificates and a three-month unlimited Flex Fusion membership!
Join us as we finally cut our ribbon with the Campbell Chamber of Commerce and maybe sign up to walk with us at Strides against breast cancer or join our fundraising team!
After a morning spent winning prizes, taking photos, and raising money for breast cancer, stay for free gentle yoga!
*All* proceeds will go straight to breast cancer research and services to ensure that no one has to fight alone. Our party with a purpose can raise money for a world without breast cancer.
Register HERE  to hold your spot for the classes and RSVP for our event. It's going to be a blast!