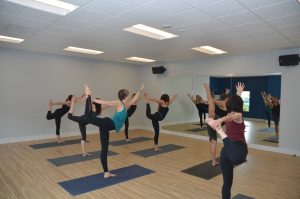 Taught by Sandy Thorpe January 7th, 2017 2:00 – 4:00pm
Start off the New Year right with an intensive class to get your endorphin rush and iron out all the kinks! This advanced Vinyasa flow class starts with a warm-up, explores the nuances of transitions between various yoga poses, moves into active standing balances and arm balances, and concludes with core work, twists, and Savasana. Learn how to integrate your core strength and flexibility to take your yoga practice to a powerful new level.
Registration
$29.00 Early Registration. $39.00 Day of Workshop.
www.mindfulallure.com/workshops.html
Sandy Thorpe, 200 E-RYT, has been teaching Vinyasa Flow and Power Yoga for over 15 years and practicing for over 20. She teaches regularly at Google, Facebook, Yahoo, Cisco, KLA, Moffett Towers Club, YMCA, and other studios, simplifying arm balances and other poses.