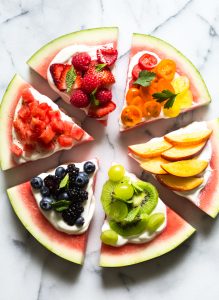 Need to feed a big group? Want it to be fun but not blow your calorie goals? Watermelon pizza to the rescue! Pizza might be a strong word (please, do not put tomato sauce on watermelons) but these little babies will be a hit for all ages and venues. Grilling them adds a fun caramelization, but you can also leave them raw and they'll be just as good. We suggest a little pizza bar(re) with all the toppings and letting people decorate their own. Let us know what you think!(photo from KitchenKonfidence)
Ingredients:
Large watermelon cut into 1/2″ slices
Check out our topping recommendations below!