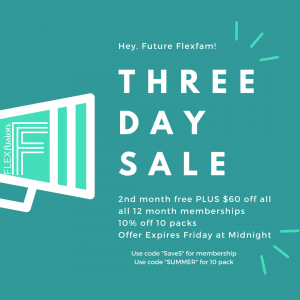 It's Here! Our annual summer sale starts TODAY!
For 3 days only, we're offering our best sale of the year. If you've been waiting for your chance to get full access to all of our classes with our best deal ever- now is the time!If you know Flex, you know we're proud to be the most affordable boutique studio in town (and the winner of The Best In Silicon Valley 2018 for both yoga AND health clubs…but we digress). We only have 3 sales a year because we keep our rates lower than the franchise models…but every once in a while you need to let loose, so get to celebrating and saving!
The kicker? We only have 5 of each option because they're just too good! Click below for our biggest membership sale of the year and our only class pack sale! Act fast- we always sell out of these.
Looking for the best deal and our most affordable option?
Here it is! Save $5 every month PLUS get your second month totally free!- $0, Nada- Freeeeee. That's a savings of more than $200!
(Remember, there is no cancelation fee if you move)
Need a comeback? Grab a 10-class package
and save $24
Get ready to Flex Your Limits for Less!
Ready to go all in? New VIP Members- make sure to come grab your swag bag at the desk!