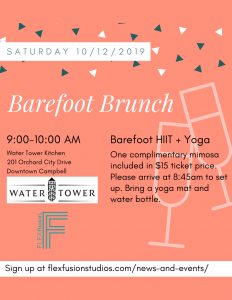 Join us for our next installment at Water Tower Kitchen in Downtown Campbell on Saturday, October 12th at 9am for 30 minutes of Barefoot HIIT followed by 30 minutes of yoga. The class will start with a full-body warmup and high intensity interval training of bodyweight exercises like mountain climbers, pushups, and squats, followed by a vinyasa yoga flow to stretch out all your muscles. Finish off with a complimentary mimosa and a no-host brunch!
Date: Saturday, October 12th
Time: 9-10, arrive by 8:45 am to set up your mat & claim your spot
All are welcome! Open to all ages and levels, no previous yoga or HIIT experience required. First mimosa included with class (non-alcoholic beverages will be offered to our guests <21). Bring your own mat. Additional mats available pending availability. Come for the workout; stay for brunch!