We know… staring down our insanely full class schedule might leave you wondering what to tackle first (we have trouble deciding which classes to take ourselves… we love them all!), so we thought we'd offer a few suggestions to make it smooth sailing.
If you've never done barre, yoga, boot camp or TRX before, here are a couple of classes to consider starting with:
Barre: If you see Barre Basics on our schedule- start there! We offer Basics at specific times throughout the year and it is a perfect spot to learn (you guessed it) the basics! Another great option is Iso Barre. This class is the perfect place to learn the modality with lots of attention from our teachers so you can flex those limits in perfect form. Don't be surprised if your legs find a bit a of a shake- it means you're working and your teacher will love you for it!

Intro to TRX: This is 
your "start here!" class for any of our TRfleX or TRYoga classes. In this quick 15-minute free class, you'll learn how to quickly adjust your suspension straps, how to modify and amplify, and how toget into the core exercises that you'll see in class. TRfleX immediately follows Intro on Sundays, so you're more than welcome to sign up for both to test out your newfound skills.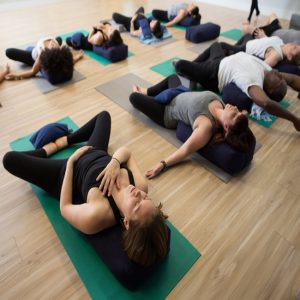 Yoga: New to Downward Dog? Slide into a Gentle Flow and Let Go class where you'll spend longer in the poses and experience
 some nice stills while you relax your mind. Silicon Valley is stressful- add some Zen to your evening and feel the effects all week. 
If you're an 'ol pro and want to maintain your pace or step it up to the next level, here are a few classes we think you'll love:
Barre Burn: We've added some cardio bursts to our barre so you'll tone and sweat in this full range of motion class. Expect bigger movements than ISO barre and a twist on the traditional barre class that you may be used to. Jumping is always optional in class, but we think the flying is part of the fun!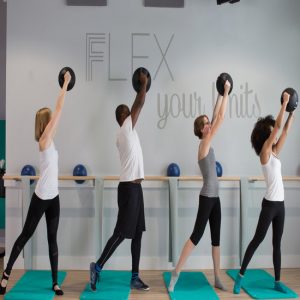 Limitless Yoga Sculpt: Like boot camp? Love yoga? This is your class. Carry your free weights through your Vinyasa practice to add some resistance to your practice. This is a cult favorite at Flex and is our own twist on the Yoga Sculpt class. Get ready to flow while sculpting muscle definition.

Circuited: This circuit style boot camp class will have your cardio, strength, functional training and core work all in one 45 minute express class. Your teacher will guide you through the stations while you keep your heart rate up and increase your stamina. You may want to bring a towel, we bet you'll sweat!
No matter what class you decide to take, we know you're going to feel great afterward, and we can't wait to welcome you into the FlexFam. Need a bit of help deciding? Send our Client Success Manager an email here!