My absolute favorite quick dinner has to be zoodles. If you're not familiar, zoodles are zucchini noodles that replace traditional pasta- I think they taste even better! Zoodles are a breeze to make, add an extra serving of veggies into your dinner, and don't leave you feeling stuffed afterward like other pasta dishes might. Pick up a few zucchinis from the store and a spiralizer of your choice (I like the kitchen aid attachment, but there are hundreds of options in every price range) and get to Zoodling!
There are countless versions of Spaghetti Zoodles. Sometimes I add ground turkey, sometimes I go veggie only (it depends on whether my husband has any input). Sometimes I make my own sauce and sometimes I pick up a jar from wholefoods- play with it to see what works for you and your family.
Weeknight Zoodles:
Time to table: 25-30 minutes. Serves 4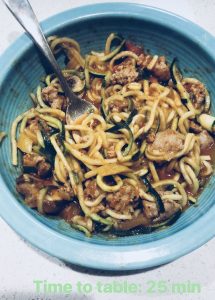 1 cup diced bell pepper of any color (I like yellow for added color)
1/2 white onion, diced
6 or so mushrooms, sliced
2 garlic cloves, minced
2 teaspoons Italian seasoning
1/2 tsp black pepper
1/4 tsp salt
6 large organic Zucchini- washed
Pasta sauce of your choice- I prefer homemade (it's easy and quick) but you can buy a healthy option in a pinch.
Heat olive oil in a large skillet over medium heat. Add turkey breast, pepper, garlic, Italian seasoning, ground black pepper, salt, and red pepper flakes (if you like heat…which I don't). Cook until turkey is lightly browned, 4 to 5 minutes. Move to a strainer and set aside.
While the turkey is cooking, Spiralize your zoodles- following the instructions on your particular spiralizer. Important* After you've turned the zucchini into zoodles, pour them into a colander with salt to draw water out and let them drain for at least 15 minutes. Zucchini has a lot of water- you don't want all that water in your sauce!
Add your veggies to the turkey pan with 1 tsp oil. Saute until tender crisp. Add your pasta sauce (I make mine in a big batch and use it throughout the week for 2 or 3 different meals. If you opt to buy yours, look for one that is low in sugar like Thrive Organic Tomato Basil Pasta Sauce. Read the labels!) Add your cooked turkey and mix.
In a different sauce pan or even a wok, heat 2 tsp oil until shimmering. Pour your zoodles into the pan (but not the excess water!). Cook for only 2-3 minutes. You still want them to crunch slightly. Overcooked zoodles are soggy.
Plate your zoodles and spoon the sauce on top. Voila, a healthier take on spaghetti!