When the founder of your studio is an Alaskan Commerical Fisherman, you get a lot of salmon recipes. Here's her favorite salmon cake go-to for easy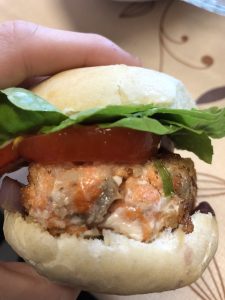 dinners. Make slider buns for little fish burgers, wrap them in lettuce for a low-cal option, or just eat them plain with a salad. These are a hit with everyone!
Ingredients
1 1/4 pounds center-cut salmon fillet, skin and pin bones removed
2 tablespoons dijon mustard
1 tablespoon mayonnaise
1 tablespoon lemon juice
1/2 teaspoon grated lemon zest
Pinch of cayenne pepper
2 scallions, chopped
1 cup plus 2 tablespoons panko
Kosher salt and freshly ground black pepper
Cut half of the salmon into 1/4-inch pieces. Put in a large bowl. Cut the rest of the salmon into chunks; transfer the chunks to a food processor along with the mustard, mayonnaise, lemon juice, lemon zest and cayenne. Pulse to make a paste.
Add the pureed salmon mixture to the bowl with the diced salmon. Add the scallions, 2 tablespoons panko, 1/2 teaspoon salt, and black pepper to taste. Gently mix until just combined.
Line a baking sheet with parchment paper and brush with olive oil. Divide the salmon mixture into 4 mounds on the parchment paper. With damp hands, pat into 4-inch-wide, 3/4-inch-thick patties. Cover loosely with plastic wrap and refrigerate at least 30 minutes.
Spread the remaining 1 cup panko on a plate. Press both sides of the salmon patties in the panko. Heat the olive oil in a large nonstick or cast-iron skillet over medium-high heat. Add the patties and cook until browned on the bottom, 3 minutes, adjusting the heat if necessary. Turn and cook until the other side is browned and the patties feel springy in the center, 3 more minutes. Transfer to a paper towel-lined plate to drain; season with salt.
Niki's favorite yogurt "tarter" sauce
1 cup Greek yogurt
½ English or pickling cucumber
1 tablespoon of dry dill or 2 tablespoons of fresh.
½ teaspoon fresh ground pepper
¼ teaspoon sea salt
¼ teaspoon celery salt
1 small garlic clove
the zest of one yellow lemon
Place everything in a food processor or using a hand blender purée into well combined.
Keep it chilled.