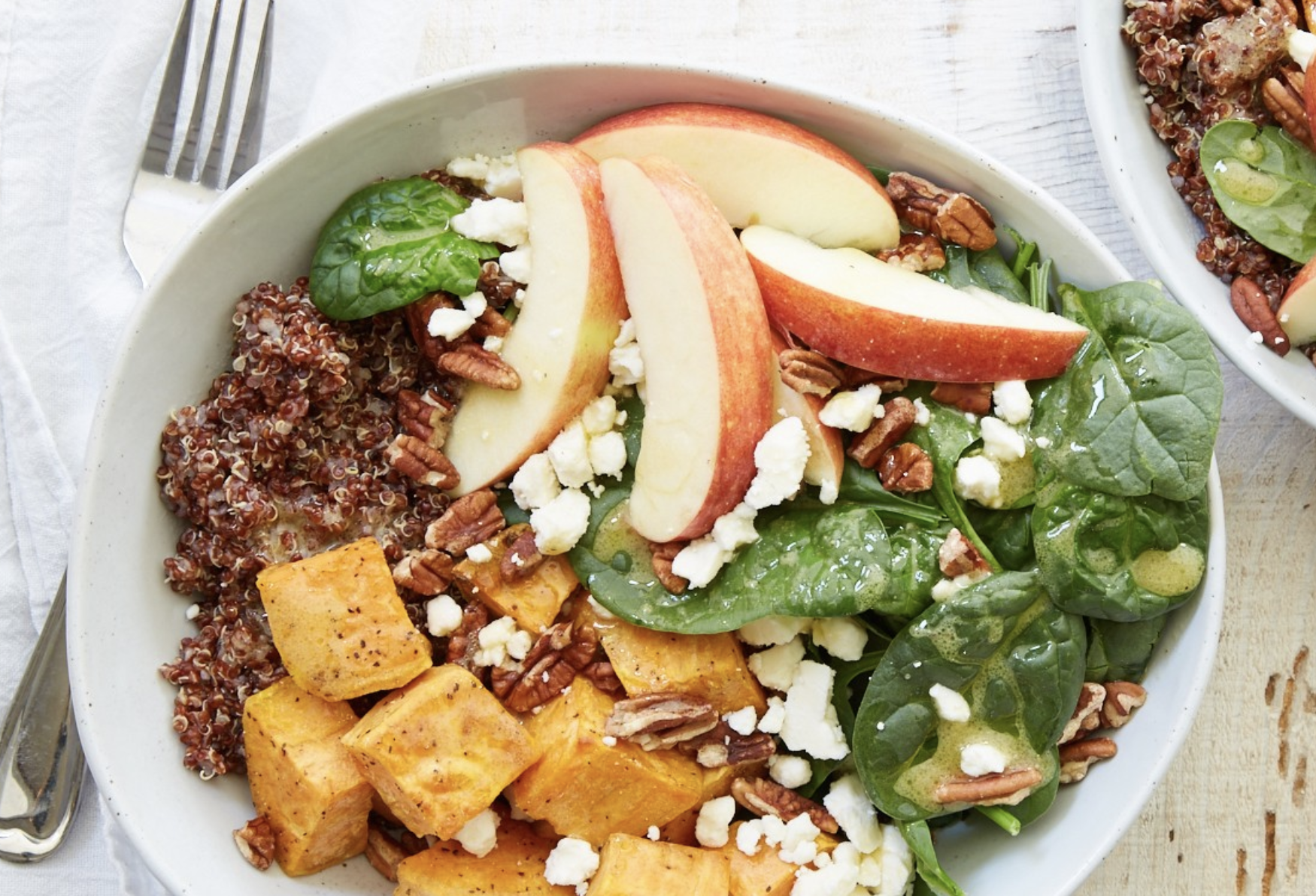 I find that I eat healthy at breakfast and dinner, but tend to struggle at lunch to not either a) eat out or b) eat a bunch of random poor choices that don't keep me full. Full disclosure- I'm currently eating Annie's Mac n Cheese for lunch- like, at this moment- because I ran out of spinach (a staple in my house) and this was the best I could do today. It happens. But on a normal day, this is one of my favorite lunch salads because it can be prepped the night before or even served for dinner the night before with leftovers the following day. Terra's Kitchen (my fav meal delivery service- click the link for a discount) calls them "Sweet Potato, Spinach, Apple and Quinoa Bowl", but I think they could use a bit of help in their titling department so I renamed them. Here is the adapted version from their bowl!
Serves 4. Time to Table 30 Minutes. Calories 477
16 ounces sweet potato chunks (roughly 2.5 chopped)
6.5 ounces red quinoa (or any color)
3 tsp apple cider vinegar
1 1/4 tsp dijon mustard
1 1/4 tsp honey- preferably local for the anti-allergens!
1/8 cup pecans, chopped
half an apple, chopped into chunks
2 loose cups of spinach
Feta to sprinkle on top
olive oil, salt, and pepper.
1. Roast the sweet potatoes: Preheat oven to 425°F. On a greased rimmed baking sheet, toss sweet potatoes with 2 teaspoons olive oil and ¼ teaspoon each salt and pepper. Bake 15 minutes, or until browned and tender, tossing halfway through.
2. Rinse the quinoa: Place the quinoa into a fine mesh strainer. Rinse under cold water for a solid minute, swishing the quinoa with your hand while rinsing. Drain.
3. Cook the quinoa: In a medium saucepan over medium-high heat, add 1 teaspoon of olive oil and the drained quinoa. Cook, stirring, for 1 minute. Add 1¾ cups water and ¼ teaspoon salt to the pan. Bring to a rolling boil. Reduce heat to low and cook, covered, for 15 minutes. Remove pot from heat and let stand, COVERED, for 5 minutes. Fluff the quinoa gently with a fork.
4. Make the dressing: While quinoa and sweet potatoes are cooking, whisk together vinegar, mustard, honey, 3 tablespoons olive oil, and salt and pepper to taste in a small bowl.
5. Toast the pecans: Place pecans in a dry small skillet over medium heat and cook 3 minutes or until toasted.
To Serve: Arrange quinoa, sweet potatoes, apple slices, spinach, the pecans and feta in serving bowls. Drizzle with dressing.
Pro Tip- Meal prep the sweet potatoes and quinoa at the beginning of the week and grab as needed! I can usually get 4-6 lunches out of this one. Not looking to go meatless? Shredded chicken and wild salmon are also great add ins!