WHY CHOOSE NUTRITION COACHING?
Fit into those jeans again. You know, THOSE jeans.
Feel Amazing and eat real food; no crash diets here.
There are two truisms in the health and fitness industry: "abs are made in the kitchen," and "you can't outrun a bad diet." If you've been working out for a while and are not seeing the results you've hoped for, the number one culprit is your diet. We can help! Even if you have failed at dieting before, our program invites success by empowering you to make healthy food choices. No crash diet, no yo-yo regain, just a healthy, flexible, and completely customized approach to eating for looking and feeling incredible. Imagine how amazing you'll feel when your friends and family start noticing. Imagine how excited you'll be to reach into the back of the closet and finally wear THOSE jeans or THAT ONE dress that's been waiting for you to make this change!
LOOKING FOR REAL RESULTS FROM YOUR DIET AND FITNESS PLAN? LOOK NO FURTHER.
Flex nutrition coaching will help you:
Reach your goals faster with a complete program that includes coaching in macros, mindset, and nutrition education.
Get off the diet rollercoaster and onto a sensible nutrition plan you can transition to the rest of your life, NOT just a fad diet that will leave you starving and sapped for energy.
Eat to perform in the gym, at work, and at your best. You'll feel amazing when you learn HOW to eat, not just WHAT to eat.
IF YOU'RE TIRED OF TRYING ENDLESS DIETS, SICK OF THE YO-YO EFFECT WHERE YOU REGAIN EVERY POUND YOU'VE FOUGHT TO LOSE, AND WANT A REAL, SUSTAINABLE APPROACH TO HEALTHY EATING, WE HAVE WHAT YOU ARE LOOKING FOR!
Achieve results with a nutrition program we design just for you, accounting for your goals, your fitness history, lifestyle, and eating habits, NEVER a cookie cutter "one size fits all" diet.
We do a thorough intake where we educate you on how to eat, give you all of the resources and education to empower you to make healthy choices, and provide the accountability you need for lasting change.
We educate you with all aspects of nutrition, macronutrients, controlling cravings, how to navigate social dinners with friends, and eating around the holidays or special occasions. Our goal is to empower you to succeed.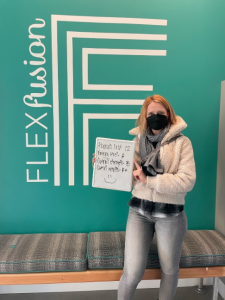 "I love LOVE Flex Fusion! The quality of training and the guidance I have received at Flex Fusion went beyond my expectations. I did personal training classes, nutrition coaching and continue now with a membership and group classes. Since December 2021 I lost 28 lb, gained incredible strength in my core and upper body and I feel AMAZING! I have been working out regularly for years, tried many different things (yoga, Pilates, spin, boot camp etc) and I have never achieved the level of fitness and just over all wellness like  this before." 
— Ania F., MFT specializing in addiction recovery