WHY CHOOSE PERSONAL TRAINING?
Transform your body with personalized workouts and individual attention.
Flexible scheduling. Top tier accountability.
Personal training gives you the opportunity to have a fitness professional create a custom training program designed specifically for YOUR BODY, YOUR GOALS, and YOUR NEEDS. Whether you're nervous about jumping back into fitness or have an unusual schedule, our knowledgeable and professional personal trainers will address your individual needs with care and attention.
LOOKING FOR SILICON VALLEY'S BEST TRAINING EXPERIENCE? YOU'VE FOUND IT.
Ten Reasons To Choose Flex Personal Training
SCHEDULE A FREE CONSULTATION TO SEE IF PERSONAL TRAINING IS RIGHT FOR YOU.
Reach your goals faster with a complete program that includes coaching in strength, endurance, and mobility.
Shed stress, develop mental resiliency and physical fortitude to withstand the pressures of your demanding life.
Take control of your health and wellness with goal-setting and accountability provided by our most knowledgable trainers.
Achieve accelerated results with a program we design just for you, accounting for your goals, your fitness history, lifestyle, and previous injuries or medical conditions. We work with you to take you from where you are now to where you want to be.
We take body measurements and a thorough fitness assessment at the beginning of your program and once a month thereafter, to make sure you're on track to crush your goals and reach success.
We educate you in all aspects of health, fitness, exercise, and nutrition needed for results. Knowledge is power, and we make sure you have a proper understanding of what it takes to reach your fitness goals. Our goal is to empower you to succeed.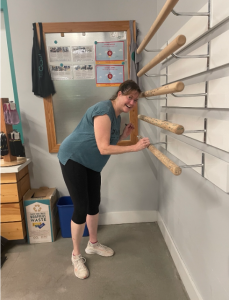 "I joined Flex a year ago for personal training after an injury. I've never been able to develop strength and stability on my own and really wanted to feel stronger. Working with Helen has been great. She tailored her routines to my specific mobility issues and I am noticeably stronger, have better balance and way more energy. I started attending TRX, Barre and boot camp as well and love those classes. All the teachers are friendly, give clear instructions, lots of encouragement and provide interesting routines. I love being a member of the Flex family"
— Marijke A., medical diagnostics