Note from Niki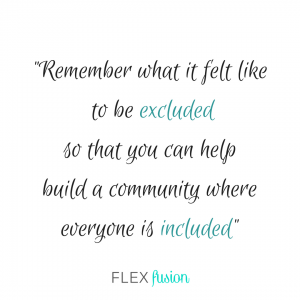 I saw a quote recently that said, "Remember what it felt like to be excluded so that you can help build a community where everyone is included" and it really resonated with me. You may have heard me talk about it before, but Flex was built around community on purpose. When I first moved here, I had zero friends, my S/O worked beyond full time and my family was in another time zone, so I would go to all these different fitness studios just to get a little bit of human interaction in my day. I vividly remember sitting in a big, fancy yoga studio and feeling like a total loser- at this point, I didn't even know what Lululemon was, let alone where to get it. I bought my pink mat at Walmart that morning because I realized I didn't even have one in CA. The teacher never even acknowledged my existence! I'm this lonely little Alaskan girl sitting in the veryyyy back corner watching all these gorgeous regulars stretch and warm up and I just felt so…out of place.
I knew that when I started my studio that I didn't want that to live at Flex. As the instructor, I always look for the person in the corner because I know what that feels like. However, I'm only one small part of the equation. You, our beloved flexfam, are the heart of Flex. When you take a second to welcome someone new, you bridge the gap to make them feel like part of the fam and that can totally change someone's day.
We have a kindness challenge starting soon and I hope you'll be apart of it. Maybe we'll start a flexfam revolution and it will spill out of the doors…Go make someone's day and stay tuned for more info!
Be Limitless,
Niki Riga, Founder